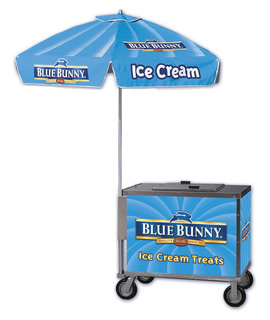 What if an ice-cream truck won't suit your needs? Are you looking to host an ice cream social in an office building, a secure controlled environment, or perhaps another location where an ice cream truck simply can't drive? If that's the case, we have a great solution for you.
Our stainless steel ice cream carts provide an excellent alternative to our ice cream trucks. Built on large rubber wheels, they can easily be pushed into any location. Furthermore, our carts are built with an advanced cold plate system that allows the ice cream to remain frozen for up to eight hours, without the need for electricity.
There are a few drawbacks to the ice cream cart. Foremost is that ice cream carts are not designed for lots of ice cream variety. In order to keep the ice cream organized inside the cart, we typically we recommend a selection of no more than 6 to 8 choices. A second drawback to the ice cream cart is that it requires special equipment to deliver and pick up the carts; as a result we typically have a minimum order of 200 bars of ice cream in order to book the cart.
If you have any questions, or would like more information on product selection and pricing, please feel free to fill out our convenient online information form link and we will get back with you shortly.